When it comes to our volunteers, we want to make sure that they understand our core values. TEACH – Trust, Excellence, Accountability, Collaboration, and Honesty & Integrity.
We are a volunteer-based organization. Our volunteers are our family and we appreciate the hard-work and dedication they provide for the children and adults in our community. There are several volunteer opportunities available at the Palmetto Literacy Council and we are always looking for more tutors.
Anyone who wishes to help
Our volunteers (many of which are tutors) come from all walks of life and want to improve the literacy rates in our community. They are retired educators, government workers, and business people. They are currently working full-time as educators, government workers, and business people. Our volunteers are also people who do not work full- or part-time jobs and want to help the community.
The volunteer tutors in our organization may work with school-age children and/or adults. They may tutor one or more students. Volunteers may also be interested in serving on our Board of Directors to help guide the organization toward our goals. Or our volunteers may assist in the operation of the office to ensure the success of the organization to thrive and benefit as many members of our community as needed.
We'll Help Get You Started Right Away
The first step for any volunteer is to contact us to let us know they are interested. We'll ask that you download the application packet or we can email it to you. Next, we'll do a criminal background check and invite you to a training session.
If you want  to be a tutor, we'll match you with a student who wants to be tutored at the location you want to tutor at. It's as easy as that! 
Once you're doing what you signed up to do; a monthly report, due on the 1st of the month helps us track volunteer hours and/or student progress.
We can't wait to work with you as a volunteer at Palmetto Literacy Council!
We Ask Our Volunteers To:
Spend about 2 hours each week for volunteer opportunities
Attend a Volunteer Tutoring Orientation
Submit information so that a criminal background check can be completed

Attend training for tutoring or other duties
Tutoring school-age children in Basic Reading
Tutoring school-age children in Basic Writing
Tutoring school-age children in Basic Math
Tutoring adults in Basic Reading
Tutoring adults in Basic Writing
Tutoring adults in Basic Math
Working on committees such as: Marketing, Fundraising, Finance
Helping with Social Media: Facebook, Instagram, etc.
Assessing new students
Publishing Newsletters
Assisting office staff
Fundraising
Planning Events
Working in Public Relations
Meet Samih Baalbaki, a PLC Tutor!
S
amih currently works with three students in the Adult Learning Program. He was excited to take on the challenge of working with adults to help them improve their English language skills.
Samih, who is multilingual, speaks Spanish, and this has been a tremendous asset in working with his students. Two of his students are women (one works in construction and the other in housekeeping). A third student is a 16-year- old girl who is in the tenth grade.
"I respect and admire the fact that they want to learn. It's not easy for them. Learning a language is a big investment." -Samih
Thanks Samih for being a dedicated volunteer!!!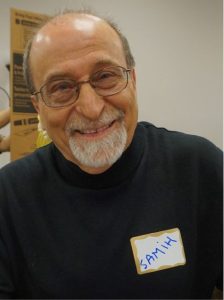 We use strength-based language. What is strength-based language? We talk about where you are and what do we need to do next. It has nothing to do with "should", "could", or "would." It has everything to do with finding out where we are and figuring out where we want to go and how. What happened in the past, is just that, the past. Let's move forward!