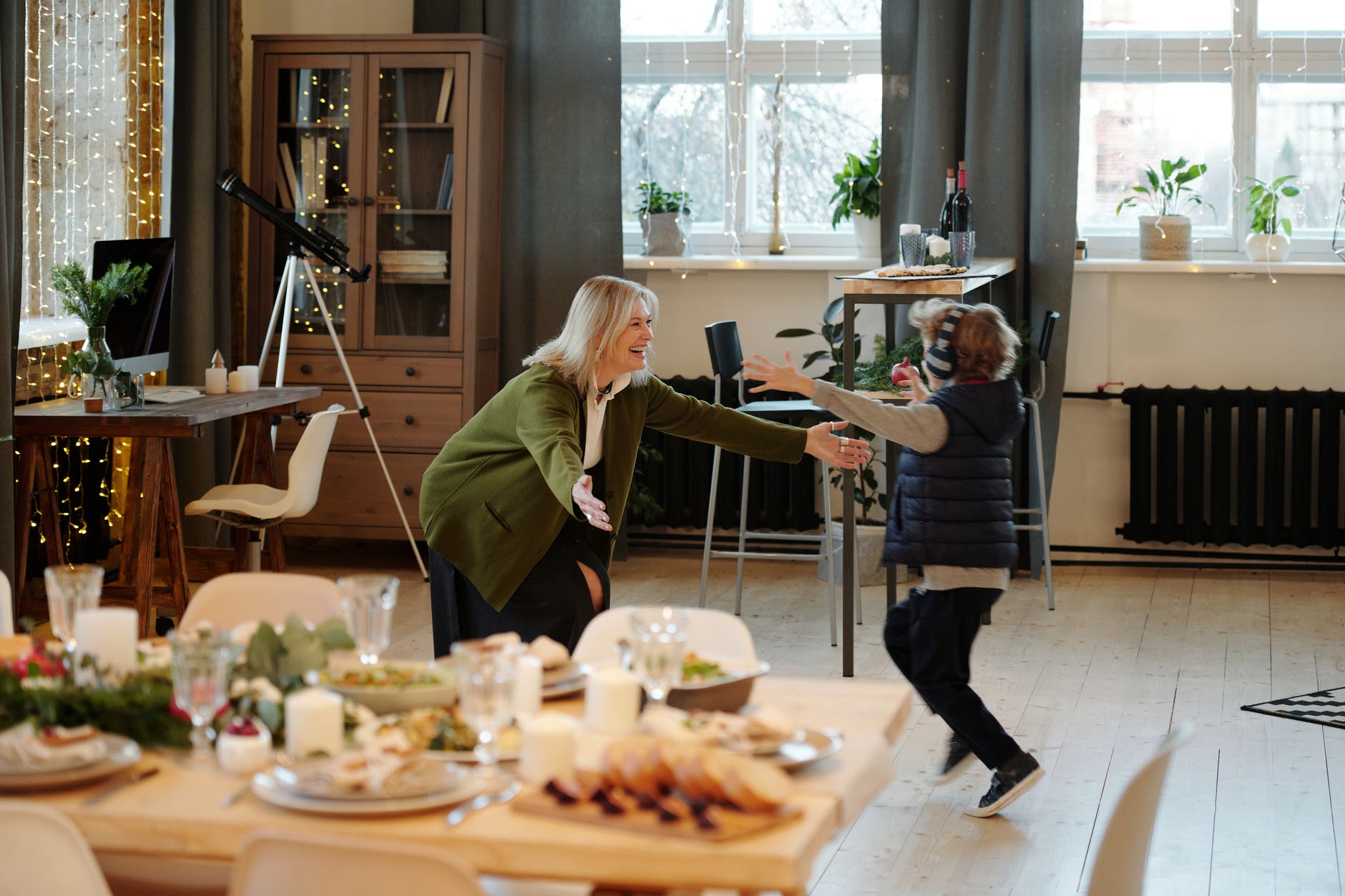 From the Director's Corner
Dear Friends,
I hope you had a great Thanksgiving and wish you a wonderful holiday season. We are all hoping that the new year brings positive changes in the struggle to combat Covid so we can again feel safe engaging with others in the community. I am hoping we can have a social gathering for volunteers after the holidays either in January or February.
Some exciting news: Palmetto Literacy Council has purchased a subscription to MobileCause which will allow us to manage all of our future events (tickets, donations, participants, etc.) through our website. So, check out the website, there is a lot going on. We are lucky to have Jan Leonhard as our MobileCause Czar and extend a big thanks to her for all her hard work and time in overseeing this service.
PLC has received a $5,000 grant from Horry Electric Trust. We so appreciate the support of organizations and people throughout our community.
We have more than 30 students being tutored and there are still almost 20 students on the waitlist. We are expanding our reach into the community in search of tutors and hope that as the holiday seasons winds up and we learn more about the Omicron variant, we will have more volunteers.
Please consider joining our roster of tutors. Two hours a week is all it takes. In addition to tutors, we are also looking for a Volunteer Liaison for the Adult Literacy Program in the Patrick Mobile Home Park. Contact Dodi for more information.
We again reiterate our commitment to keeping our tutors and students safe as Covid continues to be an issue in our community. We hope with more people getting vaccinated that conditions will improve. Thank you for protecting one another during this difficult time.
When ordering from Amazon.com during this holiday season, please consider designating PLC as the charity of your choice. Amazon does not charge you extra and sends us a percentage of their profit on the items. Please sign up and make your Amazon purchases through smile.amazon.com to help us help our community.
Our volunteers are so important to the success of this organization. I get a little happy weepy when I think about all they do to represent Palmetto Literacy and generate awareness throughout the community. My sincere appreciation to all.
Stay safe and be well,
Dodi
How You Can Support PLC
Individual membership: $25/year (Pays for materials for one student)
Business membership: $50/year (Pays for materials for two students)

Your business card will be featured in the newsletter and on our website Donate through palmettoliteracycouncil.org
---
Volunteering: The Effects on
Volunteers' Well-being
A recent analysis examining the potential correlation between volunteering and well-being found that volunteering is associated with a higher well-being as well as a positive change in well-being. Authors of the study, which was published in the Journal of Happiness Studies in March of 2020, acknowledge that evidence pertaining to the correlation between volunteering and well-being has accumulated gradually in recent years, though they feel their study offers the most realistic assessment to date in regard to that link.
That's good news for volunteers, many of whom may be quick to point out that they get as much as they give when volunteering. Recent analyses support that notion and may compel millions more to make time to give back through volunteering.
Though more studies are needed, the Cleveland Clinic notes that some of the health benefits often associated with volunteering include lower blood pressure, increased self-esteem, lower levels of depression and stress, and greater satisfaction with life.
Reprinted from Golden Life News with permission
Student Success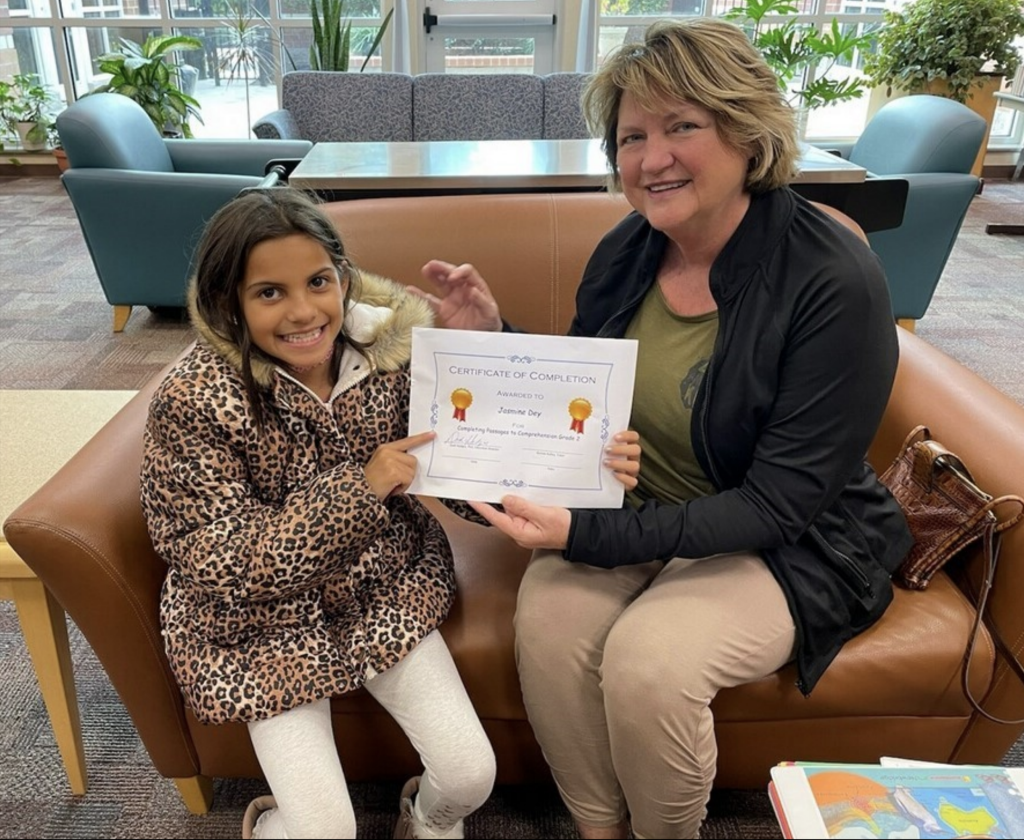 Congratulations to Jasmine Dey who has graduated to the next level of reading with the help of her tutor Bonnie Kelley. Good work!
Forever Free – A True Story of Hope in the Fight for Child Literacy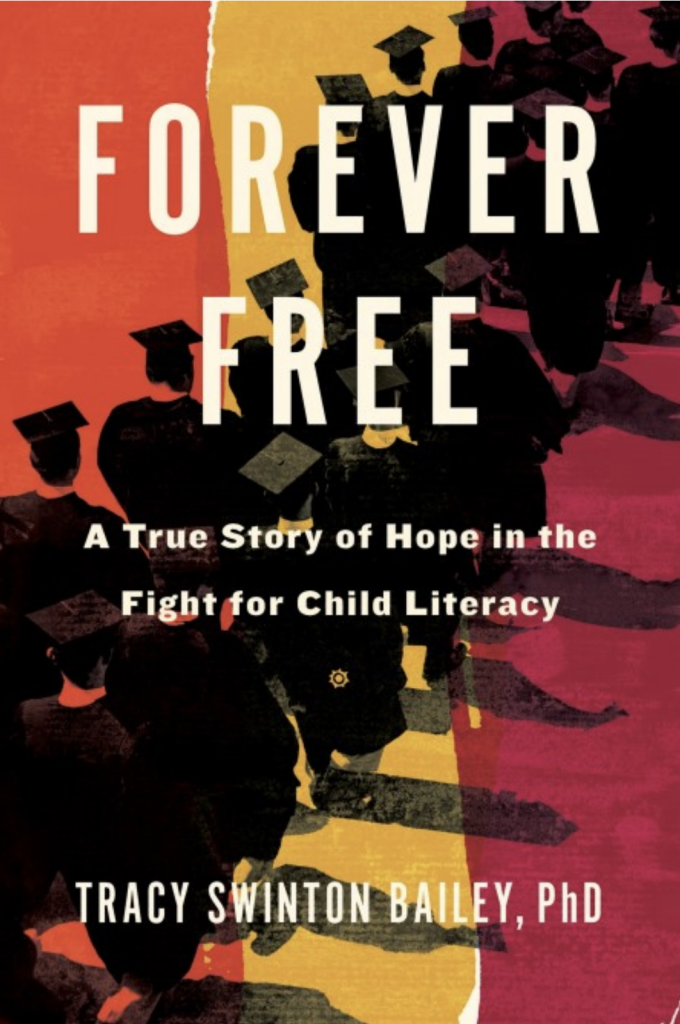 Tracy Swinton Bailey, PhD
Tracy Swinton Bailey, local author, educator and advocate for literacy, has recently published Forever Free: A True Story of Hope in the Fight for Child Literacy. The title captures the essence of her journey as the founder of Freedom Readers, a nonprofit that addresses the shortcomings of our public education system. After reading this compelling book, we understand the reality: disadvantaged Black children have suffered and continue to suffer because of the inequities of literacy instruction in our schools.
Reading means freedom. And improving literacy is paramount to success. For more than ten years, Bailey has sought to counter low literacy through her program Freedom Readers. Her book chronicles this journey, and it packs a punch. Some disturbing statistics related to low literacy (from the Freedom Readers website):
2/3 of students who cannot read proficiently by the end of 4th grade will end up in jail or on welfare;
If a child is not reading proficiently in the 4th grade, he or she will have approximately a 78% chance of not catching up;
85% of all juveniles who interface with the juvenile court system are functionally illiterate;
Low literacy costs $73 million per year in terms of direct health care costs.
Confronting these statistics and working tirelessly to improve literacy in the local community, in her book, Bailey shows how the Freedom Readers model has successfully met the challenges. Tutors work with children (grades K-5) not only to improve their literacy skills, but to promote a love of reading. To do this, students are offered books that meet their interests. Students are encouraged every step of the way and the program works—test scores verify that.
Forever Free is an eye opening and inspirational book. It's well worth the read.
AREA BOOK HAPPENINGS
Book Bingo at North Myrtle Beach Library
Wednesday December 8 11:00am – 12:00pm
Have fun and meet new people playing Bingo with book titles instead of numbers – prizes are popular books to choose from.
Far, Far Away Book Club at Socastee Library
Wednesday December 8 3:30pm – 4:30pm
A new Science Fiction and Fantasy Book Club. Join the discussion virtually or in-person to discuss The Magicians by Lev Grossman. Contact Socastee Library at 843-915-5283 for more information and to obtain a copy of the book.
Zoom meeting information:
https://us06web.zoom.us/j/85281354810?
pwd=cmFtL0ZXK3dwM2RPNnVPWUpHdFUzZz09
Meeting ID: 852 8135 4810
Passcode: read
Book Sale at Surfside Library
Thursday December 9 9:00am – 11:00am
Browse gently used books donated by our patrons and available at a low cost. This book sale is hosted by the Friends of the Surfside Beach Library and all proceeds will benefit the Surfside Beach Library.
Book Sale at Little River Library
Friday December 10 9:00am – 12:00pm
Browse gently used books donated by our patrons and available at a low cost. This book sale is hosted by the Friends of the Little River Library and all proceeds will benefit the Little River Library.
Talking About Books at Surfside Library
Friday December 10 3:00pm – 4:00pm
Get a chance to experience popular titles along with a group discussion. Books are reserved for participants.
Please contact Surfside Beach Library for further details and registration: 843-915-5280. This month's book discussion will focus on: Never Let Me Go by Kazuo Ishiguro.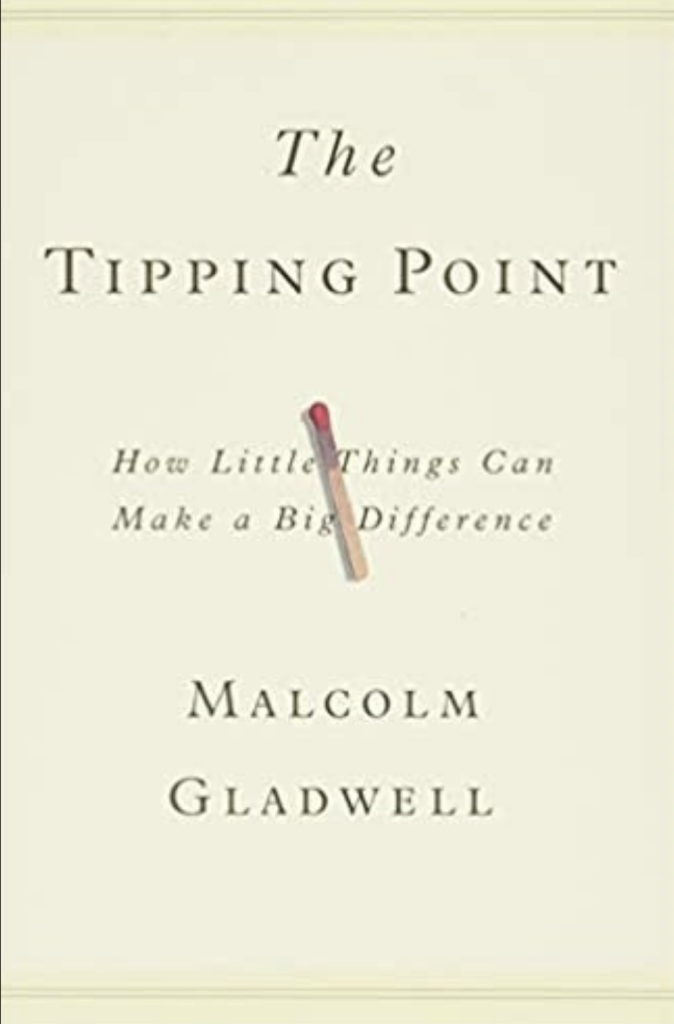 Dr. McKever-Floyd recommends:
Malcolm Gladwell's The Tipping Point: How Little Things Can Make a Big Difference
Amazon: The tipping point is that magic moment when an idea, trend, or social behavior crosses a threshold, tips, and spreads like wildfire.
Just as a single sick person can start an epidemic of the flu, so too can a small but precisely targeted push cause a fashion trend, the popularity of a new product, or a drop in the crime rate. This widely acclaimed bestseller, in which Malcolm Gladwell explores and brilliantly illuminates the tipping point phenomenon, is already changing the way people throughout the world think about selling products and disseminating ideas.
The Logophile
Preston McKever-Floyd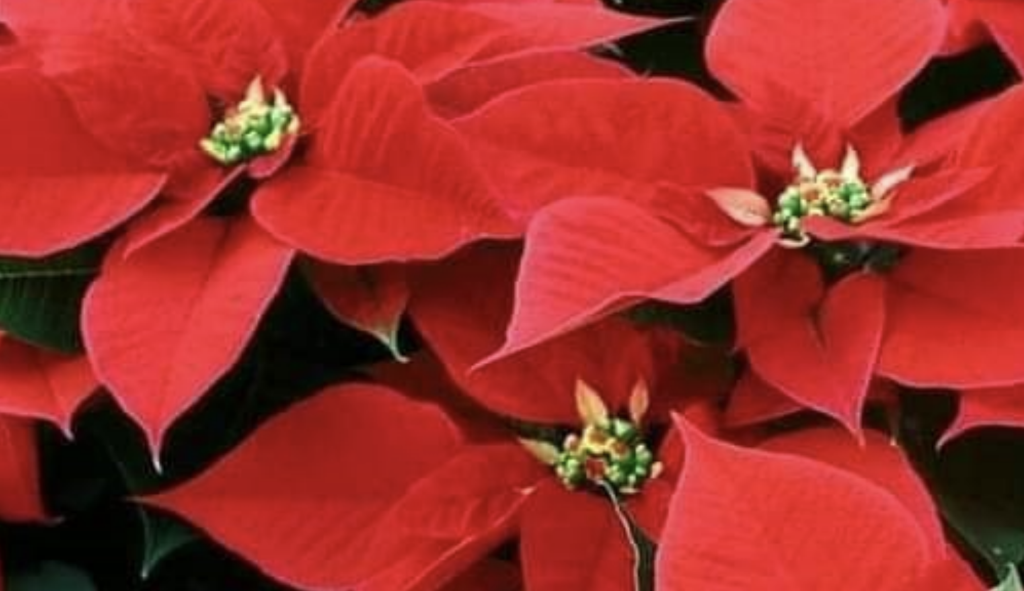 The poinsettia is a widely cultivated plant and especially popular during Christmas time in America. This cultivar's most salient feature is its large crimson
foliage. Its beauty is beguiling because its sap or milk is poisonous. The plant is native to Southern Mexico and was used in religious ritual for hundreds of years. his cultivar has many monikers: Christmas star, Christmas flower, lobster plant, Mexican flameleaf, painted leaf, and Euphoria pulcherrima.
Doctor Joel Poinsett (1779-1851), U. S. Ambassador and a native of Greenville, South Carolina is credited with bringing the plant into the purview of botanists in 1828, becoming the eponym for the plant, hence its botanical genus being assigned in 1836 in Modern Latin, poinsettia.
The Nickel Boys by Colson Whitehead Passing by Nella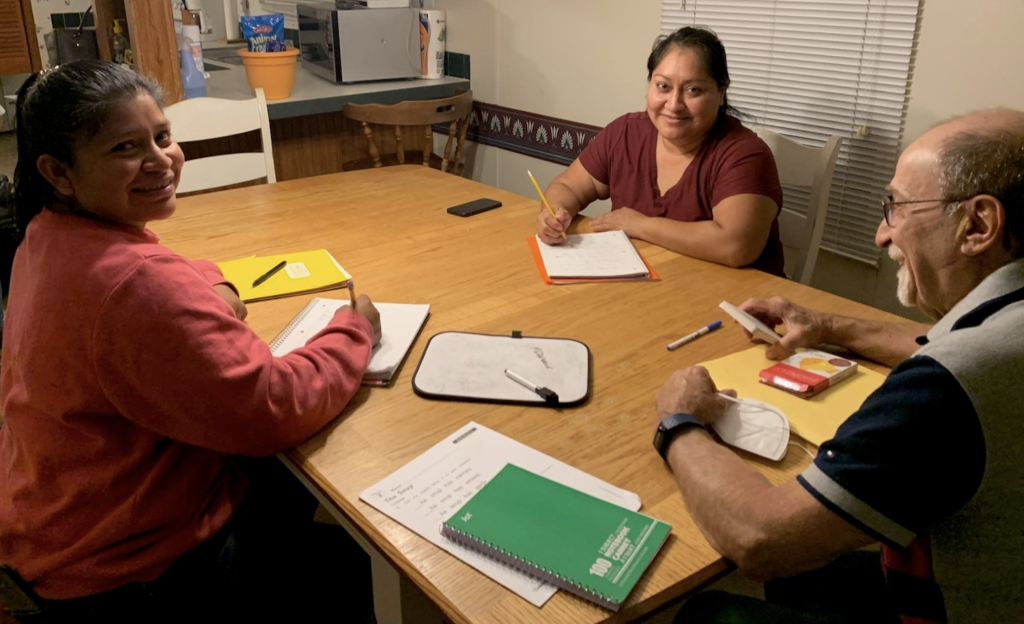 Samih Baalbaki tutoring students in the Adult Literacy Program at Patrick's Mobile Home Park
Some books leave us free and some books make us free

Ralph Waldo Emerson
Download our monthly newsletter
You can download our monthly newsletter right here!
---
MISSION STATEMENT
To improve the literacy of youth and adults in our community by teaching/tutoring basic literacy skills for those who struggle with reading, writing and/or math.
BOARD OF DIRECTORS
CHAIR: Dodi Hodges: [email protected]
VICE CHAIR: Shawna Roessler [email protected]
TREASURER: Maria Denney [email protected]
SECRETARY: Preston McKever-Floyd [email protected]
MEMBERS AT LARGE:
FUNDRAISING CO-CHAIRS: Patricia D'Ascoli [email protected], Stephanie Southworth [email protected]
TRAINING COORDINATOR: Carla Taylor [email protected]
MAILING ADDRESS: 1229 38TH Avenue North, #130 Myrtle Beach, SC 29577
PHYSICAL ADDRESS: 1010 5th Avenue North Ext., Suite 101I Surfside Beach, SC 29575
FOR INFORMATION OR QUESTIONS:
OFFICE PHONE: 843-945-9278
OFFICE EMAIL: [email protected]
WEBSITE: www.palmettoliteracy.org