Summer is surely underway here in the Myrtle Beach area as evidenced by the number of people who have been flocking to the Grand Strand for vacation since the end of the school year. Shopping, dining, driving and beach–going will continue to be challenging until the end of August so perhaps it might be a good time to visit one of the many libraries in Horry County and sit for awhile reading a good book in one of the few peaceful environments to be found during this season. Of course vacations are always a great time to catch up on your reading, and librarians are eager to assist you in choosing books that appeal to your reading tastes.
Here's another reading idea: Join a book club (Chapin, Surfside and Carolina Forest libraries all have monthly clubs). Sharing our thoughts and ideas about books we are reading can be so rewarding, and book clubs are a great way to gain new insights from fellow biblio-philes. In the spirit of celebrating literacy and encouraging our volunteers to share their love of reading with
one another, PLC has decided to host a monthly book club in our Surfside office starting in September—look for more information in our August newsletter!
Speaking of reading, our Big Book Bazaar Fundraiser presents a wonderful opportunity to purchase books at great prices—proceeds benefit PLC and support our programming. We are delighted to have acclaimed poet Dan Albergotti speaking and sharing his poetry as part of the Brunch and Browse portion of the event. See the flyer on page 3 for more information on how to buy tickets for the Big Book Bazaar.
PLC's Second Annual Charity Golf Scramble will be held on November 14, and we are actively seeking players and sponsors to help make this fundraising event a success. Please spread the word to friends, colleagues and local businesses about this event. It promises to be a fun filled competition at the Pine Lakes Golf Course. Contact Kim Savon for more info: 843.945.9278 or [email protected].
Take a moment to visit our Facebook page for regular updates on PLC's activities and for stories about the successes tutors are having with our students. If you are interested in viewing the TEDX talk I gave at CCU in April, here's the link:
https://www.youtube.com/watch?v=A3rhzzEqSew
Here's to a book filled summer! Sincerely,
Dodi
Dodi Hodges – Executive Producer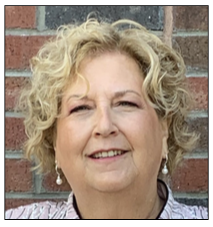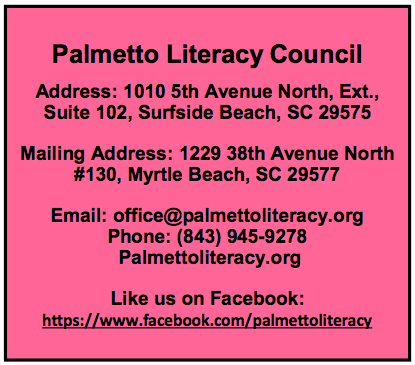 If you do not wish to get this newsletter, please email [email protected] and put UNSUBSCRIBE NEWSLETTER in the subject line.
A recent article in The Washington Post ("The rise in book bans, explained" by Angela Haupt, June 9, 2022) reported that there has been an alarming increase in the number of books that have been banned in the United States. PEN America reported in April there were 1,586 instances of individual books being banned during the nine–month period from July 1, 2021 to March 31, 2022 which affected 1,145 book titles.
Books are challenged before they are banned. So what happens when a book is challenged? It might be redacted, with certain passages marked out, or restricted (available only with a permission slip, for example) or relocated (moved from the young adult section to the adult section, for example). When a previously available book is removed from the library or school curriculum based on its content, it's considered to be banned.
According to the American Library Association, parents challenge books more than any other group, but school board officials, local and statewide law- makers and activists also challenge books. It should come as no surprise that books most frequently challenged tend to have certain themes in common: LGBTQ topics or characters; sex, abortion, teen pregnancy or puberty; race and racism or protagonists of color. In keeping with this, the most challenged books in 2021 included Gender Queer by Maia Kobabe, Lawn Boy by Jonathan Evison and All Boys Aren't Blue by George M. Johnson. These books all feature LGBTQ content.
Here in South Carolina, Governor McMaster recently urged the Department of Education to remove the award–winning memoir Gender Queer from school shelves, calling it "obscene and pornographic."
The book chronicles nonbinary author Kobabe's journey of self–identity; it is being challenged for its graphic illustrations of LGBTQ sexual experi- ences.
Most of us have read a banned book during our lives, considering that such titles as 1984, Huckleberry Finn, Catcher in the Rye, The Great Gatsby, and I Know Why the Caged Bird Sings are among the most repeatedly banned or challenged books throughout history. Check out the list below to see what books have been banned over the years—you might be surprised by some of the titles. Which ones have you read?
List of most commonly challenged books in the United States – Wikipedia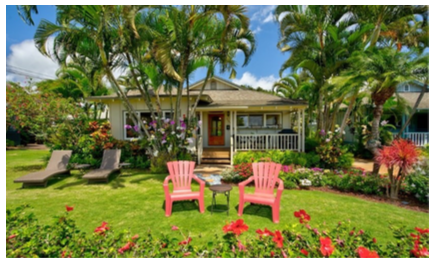 Long before high–rise hotels and condominiums, the favored vacation destination was a quaint bungalow at the shore. "Bungalow" has been in American architectural phraseology for a very long time. However, its arrival into English usage has rather exotic source.
Bungalow comes from the Hindi term bangla, "pertaining to Bengal" or "in Bengali style." A cottage that was initially constructed in the late 17th century for European settlers and travelers in the Bengal region of India, a small, single–storied house with sloping roof and a veranda.
Bungalows were built in Europe, predominantly England, and later America for retirement homes without the concern of climbing stairs. This uncomplicated form of architecture has come to symbolize a quieter, and gentler lifestyle, on the coast, the blissful days of summers long ago.
_____________________________________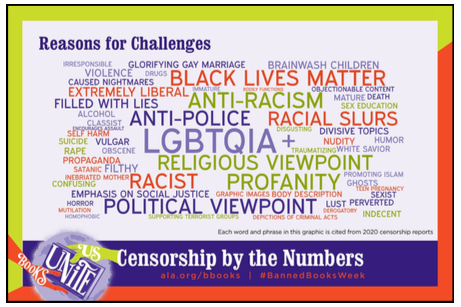 FOR PLC TUTORS

HOW Monthly Reports = CA$H / $UPPORT

Do you know how we pay for the supplies we use for tutoring? One way is through grants. When we apply for grants we need to show what we are doing and what impact we are making. When you fill out your Monthly Report, we are capturing information that is used in our grant applications! Please help us fulfill our mission by promptly filling out & submitting your monthly report EVERY Month.

Volunteer reports should show the # of hours spent working & traveling in service of PLC.

Tutor reports should show the # of hours spent preparing, traveling and tutoring. AND so much more! Tutor reports communicate how the match is going and how the student is progressing.

Please include the PLC binder level with the students name. Example: Randall Jones K– 1 where "K– 1″ is the binder Randall is in.

The library location you are tutoring would be helpful too. Please add it to the date/time section. Example: Tues/Thur 5pm – 6 pm SOC

The comments associated with each tutoring session line item on the report, should indicate how each planned session went. Did the session get cancelled? Was the student a no show? Did the student complete/work on a particular passage/book?

VLs & Dodi are using the comments to determine when we should schedule the next testing session. And, in the worst case scenario, past comments can help someone else pick up where you left off; if a new tutor was needed.

Comments are really important, so let's look at some examples to demonstrate the difference between a helpful and not so helpful comment.

Great: Reviewed first 100 fry words. Read the Tallest Cactus & reviewed the vocabulary.
Great: 2nd 100 fry words. finished Tallest Cactus & worksheets.
Not optimal [no real information]: Tutoring
Not optimal [too long, stick to the facts please]: 100 word review, got 1 wrong, getting better. Read the lesson plan on The Boston Tea Party. She did well, enjoyed this one & knew some of the story. Did well on the study questions.
Instead: did first 100 fry, read Boston Tea Party, worked on study questions.
Comments should also indicate potential timing issues and future time off plans:
Good/Informative: Cancelled
Good/Informative: Last tutor session for the summer is June 1. No other sessions this summer.
Not Optimal: <no report> <no mention of missed session>

Please only send your report to [email protected]. This email address is utilized by Cheryl & Jan to enter all the information from your reports in LACES. Please help them out by typing your report and sending it electronically, if at all possible.

PLEASE do not send photos of your report as they are really hard to read/decipher. If you need us to
walk you through utilizing the word doc version of the report, please send an email request to: [email protected]. Printed copies sent through USPS Mail are better than no report at all.

Please only send the reports to: [email protected]; you do not need to copy Dodi or anyone else. Please don't put questions for Dodi in the reports; send questions to Dodi separately.

Data/reports are pulled from LACES weekly and are provided to our VLs, Dodi and the team.

THANK YOU for all you do for PLC, we wouldn't be successful without you!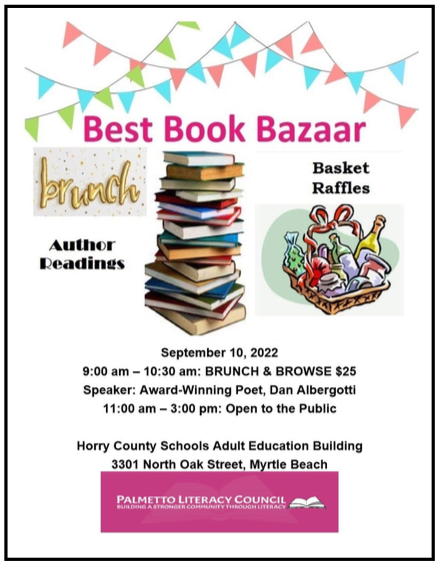 Meet Our New Board Member:
Luisa Soto, Treasurer
Palmetto Literacy Council is excited to welcome Luisa to the PLC Family! She brings a wealth of experience with her to this position. Luisa recently relocated to North Myrtle Beach from upstate New York and is employed by Bank of America as the Vice President, Preferred Banking Market Leader. She holds a master's degree in business manage- ment from St. John Fisher College in Rochester, NY and is very committed to the local Myrtle Beach community. Originally from the Dominican Republic, Luisa has three children, Wilson, Alejandro and Catalina. She enjoys her time off traveling, meeting new people, and learning about new cultures.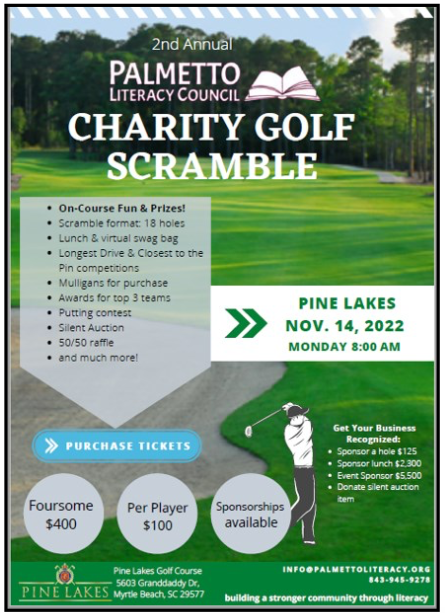 SPONSORSHIPS
All proceeds from the Charity Golf Scramble will directly benefit Palmetto Literacy Council. Funding offsets the costs to operate at no charge to the community, is used for volunteer training, curriculum and assessment materials, etc. Classroom teachers across Horry County consistently report that students who go through our tutoring program increase their reading and writing skills as well as increase their confidence.
We encourage local businesses to participate in this fundraising event as sponsors and as participants. We couldn't do our work for the community without the generous support of local businesses. Please consider this opportunity to promote your business, reach your target audience, and help a great cause.
We will begin promoting our sponsors via our website, newsletters, and events every month through Novem- ber. If you would like to include an offer for our swag bags or virtual swag bags, there is no additional charge to do so for our sponsors.
Please contact Kim Savon with questions 843.945.9278 or email [email protected]