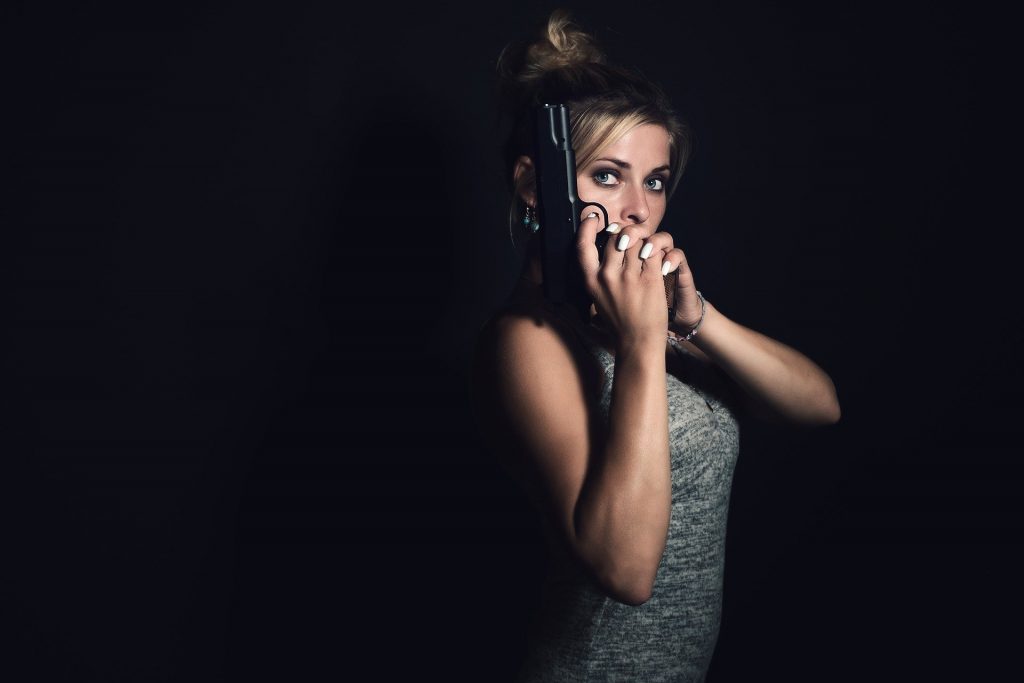 A Former FBI Agent Turned Writer
Interview completed and written by Patricia D'Ascoli
Dana Ridenour subscribes to the age-old advice given to writers: "Write what you know." As a retired undercover FBI agent, the Beaufort, South Carolina author is more than qualified to write fiction that showcases the dangerous adventures of an undercover FBI agent. That agent, her "alter-ego" is Alexis (Lexie) Montgomery, who stars in an exciting and suspenseful three-part series published by Ms. Ridenour: Behind The Mask (2016), Beyond The Cabin (2018) and Below The Radar (2019).
I recently had the opportunity to chat with Ms. Ridenour to discuss what has turned out to be quite a successful second career. Behind the Mask was, in fact, released on the day she retired (April 6, 2016), which also happened to be her fiftieth birthday. Although she had never thought about being a writer, Ms. Ridenour's transition from FBI agent to author came naturally, as she had documented her undercover experiences working in domestic terrorism throughout her career in a series of journals.
As an agent, Ms. Ridenour infiltrated criminal organizations like the Animal Liberation Front, a group of extreme animal rights activists. "My mission was to target the radical extremists who were committing serious crimes such as arson," Ms. Ridenour explained, noting that this experience helped her to understand the animal rights extremist ideology and served as the basis for the three books in the Lexie Montgomery series. During her career, she was forced to witness brutality and barbaric acts against animals.
Writing in her journals was therapeutic, said Ms. Ridenour, as it allowed her to vent and to express her feelings and emotions about her undercover experiences. She used those experiences to create Lexie Montgomery, and to reveal the psychological impact that undercover work has on an agent. Ms. Ridenour was also motivated by a desire to write a realistic FBI undercover novel. She was frustrated with how inaccurately the FBI is portrayed in novels, TV shows and movies. "I hope readers enjoy my stories, but I also hope they discover something about the FBI that they didn't know before," Ms. Ridenour said, adding that in order to protect trade secrets, the FBI must approve her manuscripts before they are published.
Ms. Ridenour said that she originally started writing at her mother's suggestion but has now realized that it is the perfect career for retirement. South Carolina was also the perfect place for retirement she said. Originally from Kentucky, Ms. Ridenour and her family frequently vacationed in South Carolina, and she always wanted to return because it felt like home. She and her husband Bill Endorf, also a retired FBI agent and her undercover partner of ten years, originally retired to Murrells Inlet in 2016. Last year they relocated to Beaufort, where the pace is a bit slower.
Ms. Ridenour always wanted to write a book about South Carolina, and Beyond the Cabin is the book most closely linked to the Palmetto State, as it takes place in the Lowcountry. Ms. Ridenour feels a literary connection to that area, as her favorite author is Pat Conroy, a Beaufort native who has been an inspiration for her. "I'm a huge Pat Conroy fan. I fell in love with the South Carolina Lowcountry from reading his lyrical prose. I've read all of his books many times."
The writing life suits Ms. Ridenour well, and she says it is a welcome change from FBI work, as she can get to know people and connect with them on a level that she was not able to do while working as an FBI agent. She has spoken for charity events, talked to book clubs, presented at libraries and has taught at workshops and conferences. "I was not a public speaker at first, but it has become something I really enjoy now. I love talking to people." Book tours can be a little draining, however, as it keeps her away from writing, which is what she loves best.
Reflecting on her own literacy journey, Ms. Ridenour related that she was exposed at an early age to storytelling and spent a lot of time in the library while growing up. One of her favorite books as a child was Where the Wild Things Are. She also loved reading Nancy Drew and Hardy Boy mysteries as well as novels written by C.S. Lewis. Ms. Ridenour enjoys the Harry Potter books and loves the fact that they got kids reading again. All kids should have access to books, she said, noting that she is very supportive of libraries. "My job is to try to promote literacy where I can." Ms. Ridenour promoted Behind the Mask at a First Book Horry County author luncheon. "It's an incredible organization. Any time you can get books into the hands of children it's terrific."
These days Ms. Ridenour spends time on her back porch writing her fourth novel. She is taking a break from the Lexie Montgomery series and is writing women's fiction and plans to return to Horry County to promote this book when it is published. Although she finds it difficult to concentrate in these frightening times we find ourselves in, she said that she continues to be inspired to write by reading the many emails she regularly gets from readers telling her how much they love her books. You can check out her books at Horry County libraries and can get to know her better at her website danaridenour.net.