Director's Corner
Director's corner
Horry County Schools opened using a hybrid model on September 8, 2020. Our parents and adult students are counting on us to help them through the struggle of learning to read, write and do math. We are open online and face-to-face. Our latest updates:
Chapin Memorial Library:

A. New hours: Monday – Thursday 9:30 A.M.— 6:00 P.M., Friday 9:30 A.M.— 5:00 P.M. and Saturday 9:30 A.M.— 1:00 P.M.
B. One room is available for one-hour tutoring.

Horry County Libraries are open.

A. You can browse in most of the libraries for no more than thirty (30) minutes.
B. Generally, the libraries do not have a location for tutoring.
C. A mask must be worn when entering any library.
D. Surfside Beach Library is open and has one room available for tutoring.
Monday – Thursday 9:00 A.M. – 7:00 P.M., Friday 9:00 A.M. – 6:00 P.M. and Saturday 9:00 A.M. – 2:00 P.M.
We are in need of volunteers. If you know anyone who is willing to commit two (2) hours each week to tutoring, please send them our way! https://www.palmettoliteracy.org.
September is National Literacy month!
We are celebrating it with an Authors' Panel featuring:
Issac Bailey: "My Brother Moochie: Regaining Dignity in the Face of Crime, Poverty, and Racism in the American South" and coming out in October: "Why Didn't We Riot? A Black Man in Trump-land"
Dana Ridenour: "Below the Radar", "Beyond the Cabin", "Behind the Mask"
Steve Robertson: "Smalls: The South Wanted His Head. The North, His Heart" Excellent Books! Great Reads! Ask the authors about their books or about getting published. It should be an entertaining discussion. This is a fundraising event for the Palmetto Literacy Council. We are requesting a donation of $1.00 (or more if you would like) to attend, which is payable through PayPal. We provide FREE tutoring for children and adults who struggle with basic reading, writing and/or math. Your contribution pro-vides materials for the students, ages 5 – 55 (so far). Check out our website for more information: https://www.palmettoliteracy.org
COVID-19 is still with us. Please wear a mask, social distance, and wash your hands frequently. As you know, our community is important to all of us. Please be safe, stay healthy, and READ!
Back to school
Summer is over and students are going back to school – whether it be in school classes, on-line learning or a combination of the two. These can be confusing times for both students and adults. School personnel are working hard to make sure that students are both comfortable and safe. After 6 months of being away from the classroom, many children will find the transition difficult. While they are excited to be with friends and see old teachers, they are not used to sitting in a classroom.
Many will have reservations about safety. Please take the time to reassure your child that the schools are safe. They need to follow the teacher's instructions, keep social distancing and wear their masks when required to do so. Please also remember that we are here to help. Many students have fallen behind. We can help! If you think your child can benefit from our program, or if you have any questions about our program, please feel free to contact us.
TUTORS AND STUDENTS WANTED
With school starting back soon, we are always on the looking out for both students who need tutoring and volunteers who would like to help. Please keep us in mind, if you know of anyone!!

This supplemental program will begin in a few short weeks. Be on the look-out
for more information!
MARK YOUR CALENDAR
We have some exciting events coming up in the next few months!!
Read Across America: our new supplemental program featuring books and activities following a monthly theme.
First Monday Read: Join one of our members as they read aloud a favorite book. If you are interested in participating, please contact the office at: palme[email protected] for access to our You Tube channel.
Virtual Authors' Panel: Join us at 10:00 A.M. on September 26, 2020. This exciting event will feature three South Carolina authors: Dana Ridenour, Issac Bailey and Steve Robertson. A donation of $20.00 is requested. A flyer for this event can be found at the end of this newsletter.
Golf Tournament: This event is scheduled for November 23, 2020. Stay tuned for further details!
NATIONAL LITERACY MONTH
September is National Literacy Month. Help promote reading by:
Carving some time out of your schedule to read each day
Read to a child
Read to an elderly person at a nursing care facility
Take someone to the library
2020 Census
The 2020 Census ends on September 30, 2020. Please remember to return your census by this date, so that Horry County may receive all the funding and benefits it is entitled to. Only one member of each household needs to respond. If you have not yet responded to the Census, a census taker may visit you to gath-er the needed information. For more infor-mation or to fill out the census online, please visit their website at https://2020census.gov.
ENSURING A SMOOTH MORNING ROUTINE
Having trouble getting your student up and ready for a good day at school? Try the following:
Complete chores the night before (make lunches, sign per-mission forms, put out lunch money, etc.)
Offer encouragement (offer frequent gentle reminders)
Set reasonable expectations (know what your child is capable of, i.e. can they dress themselves)
Leave time for "Unhurried" moments ( try to allow about 10 minutes for a calming activity such as reading to your child or taking to him/her about the day)
MOTIVATING STUDENTS
Motivate your student to return to tutoring by:
Be clear about learning objectives
Create a threat-free environment (be supportive)
Offer varied experiences
Give praise when earned
Model enthusiasm for learning
Harness student interests
Manage student anxiety
Make goals high but attainable
Motivating students is a challenge that almost all teachers face. Students need to be motivated in order to focus on the tasK they will accomplish. How can we motivate students?
Reading Is Fun!
Does your child hate to read? Does he or she make up a million excuses to get out of reading? The website, https://gradepowerlearning.corn has offered the following tips on how to make reading fun for your child:
Pick the right books (have your child select a book that he/she will enjoy reading)
Read aloud (try using different voices for each character, take turns reading aloud)
Act out the story (draw pictures, act out the story, make up alternate endings)
Encourage all forms of reading (let your child read a magazine, a graphic novel, or a newspaper)
Create a reading space (add blankets, pillows, bean bag chair or their favorite stuffed animal)
Listen to audiobooks
Start a series
Have a "reading hour" (read your own book while your child is reading)
Go to the library
BOARD OF DIRECTORS
CHAIR: Dodi Hodges: [email protected]
VICE CHAIR: Shawna Roessler [email protected]
TREASURER: Maria Denney [email protected]
SECRETARY: Preston McKever-Floyd [email protected]
FUNDRAISING CO-CHAIRS: Patricia D'Ascoli [email protected], Stephanie Southworth [email protected]
ADMINISTRATIVE ASST.: Jeanne Bogart [email protected]
MAILING ADDRESS: 1229 38TH Avenue North, #130 Myrtle Beach, SC 29577
PHYSICAL ADDRESS: 1010 5th Avenue North Ext., Suite 101I Surfside Beach, SC 29575
FOR INFORMATION OR QUESTIONS:
OFFICE PHONE: 843-945-9278
OFFICE EMAIL: [email protected]
WEBSITE: www.palmettoliteracy.org
MISSION STATEMENT
To improve the literacy of youth and adults in our community by teaching/tutoring basic literacy skills for those who struggle with reading, writing and/or math.
You can also read our newsletter here.
Virtual Author's Panel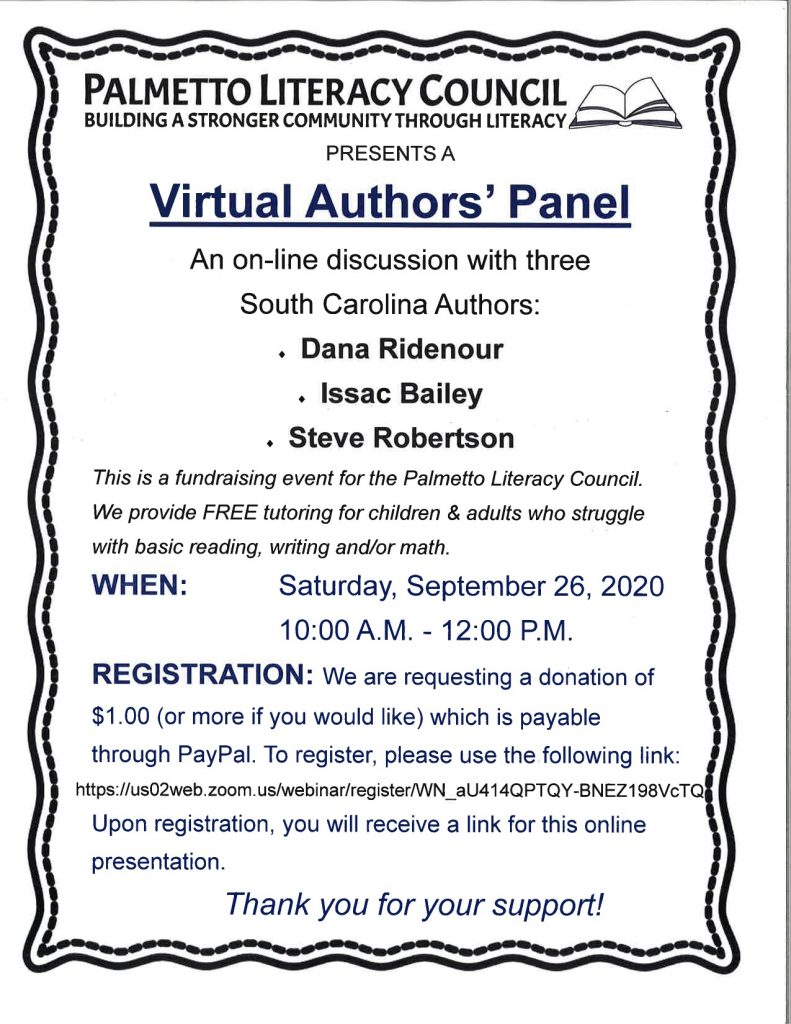 Register online here: https://us02web.zoom.us/webinar/register/WN_aU414QPTQY-BNEZ198VcTQ
Charity Golf Tournament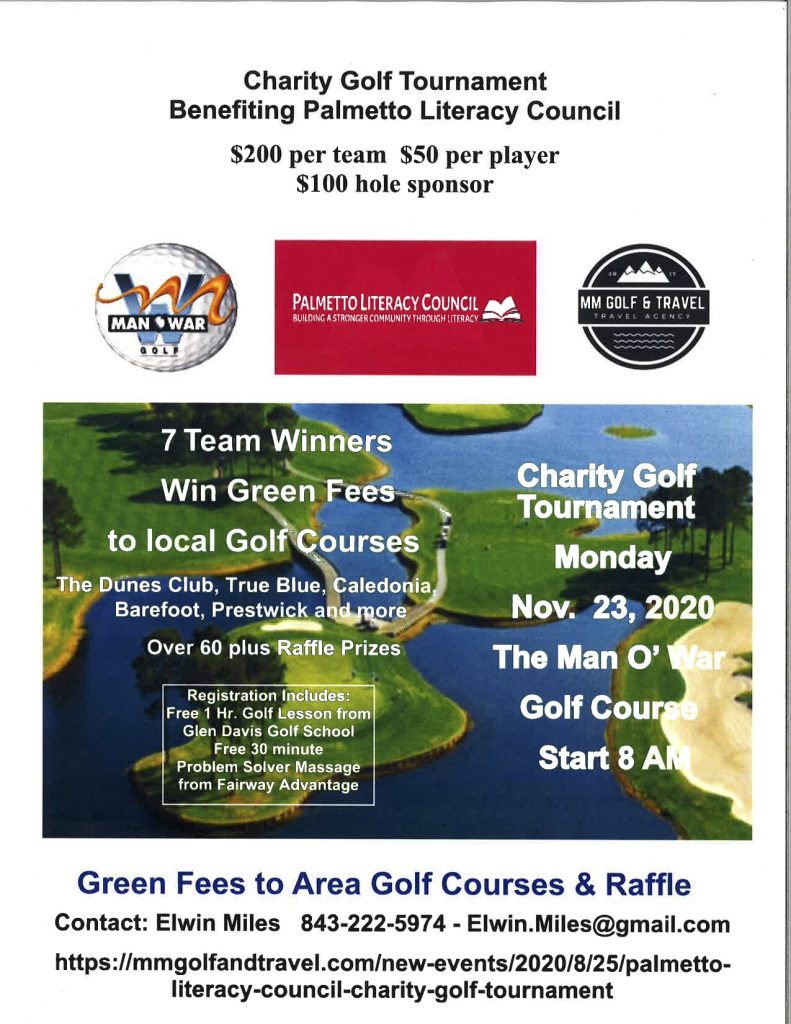 Listen to our sessions every first Monday!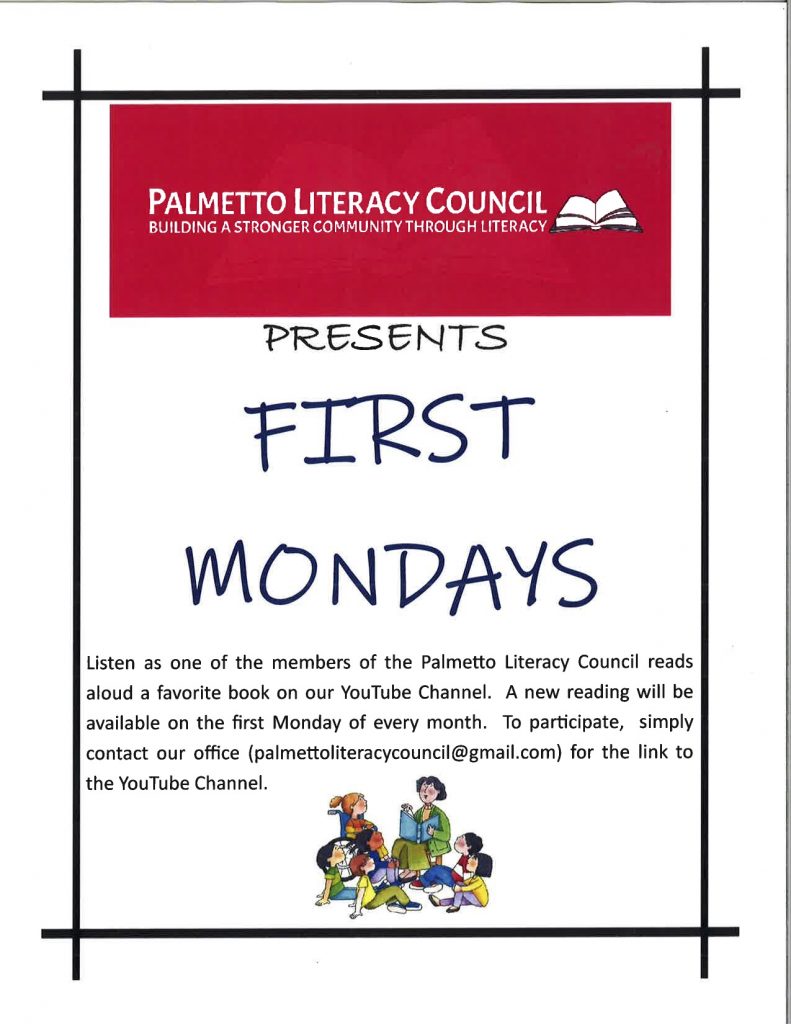 NEA's Read Across America