Looking back over 4 years...
In the four years since its founding, the Palmetto Literacy Council has helped change the lives of so many people in our community.
What has always been apparent, is that our growth would not be possible without you: Our students, parents, and volunteers.
Thank you to all of you. You are the strength behind this organization. All of you, together, make a difference and shine a light on the importance of literacy from a young age throughout the span of a lifetime. Love of the written word and the ability to read those words, are the building blocks of the future, whether you are a child or adult.
I'd like to take a few minutes to share with you some of my memories of current students and parents, both from today and yesterday. You have all left an indelible mark on my heart. We're going to be shining our own special PLC light on all of you in upcoming editions of the newsletter.
Volunteers, never forget that what you do for PLC is immeasurable. One of life's greatest gifts is literacy, and it's a gift that keeps giving for a lifetime.
Our students…
One of our adult students was born and raised in Jamaica and came to the U.S. as a young adult. Now married, with children, she reached out to Palmetto Literacy Council to learn how to read better and was paired with a volunteer, Phyllis Townsend. At a recent visit to check her progress she said: "I'm reading so much better. When I started, I could not use text on my phone. I could not read the texts. Now, my boss writes a text to me and I can read it and I can send her a text too! capitalizing letters, using periods, and so on. I'm so excited to be able to do this!"
We have a 61-year-old student who reached out to PLC to learn to read for pleasure. She says she reads the material and doesn't remember what she read. We have programs to help her, as long as we have an available volunteer tutor.
Another student, in first grade when she started with us, "graduated" from tutoring in the fall of 2021. With the help of her tutor, she has blossomed! Once shy, she now shares her valuable time
Finally, one of our students had never before been in a public library. When he found a book about bears, his favorite animal, he was told he could borrow the book for two weeks with a library card, the look of excitement on his face was priceless.
-Dodi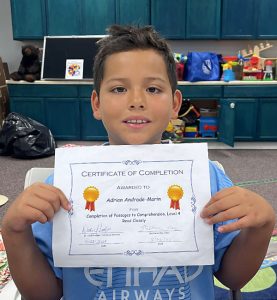 Adrian Andrade-Marin has completed "Passages to Comprehension, Level 4." His Tutor is Stephanie Hay.
2nd Annual Best Book Bazaar Offers Bargain Books, Games, & Fun September 29 and September 30, 2023
Does your family like to read? Looking for books at a bargain? Do your students enjoy playing games and winning contests? If so, don't miss the Best Book Bazaar! Over 6,000 books offered for sale – CHEAP! Local authors will be set up to offer their books for sale and autograph.
Location: Horry County Schools Adult Education Center, 3301 Oak St., Myrtle Beach. Here's a Google Map.
Friday, September 29, 2023
at 6:00 to 9:00 PM: Family Fun Night! Admission is $10 per adult; children 17 and under are free. Tickets can be purchased in advance on the website, or at the door on Aug. 29. You will get first crack at the books for sale. Light refreshments are provided. First- and second-place student winners of the Pen Warrior Contest (in each category) will be awarded prizes and asked to read their stories. Deadline to enter the contest is Sept. 12. For more information on the contest, visit the literacy council web site at https://palmettoliteracy.org. Dr. Preston McKever-Floyd, author, and guest speaker, will present each winner of the Pen Warrior Contest, with an Author Award, perhaps the first of many for these young writers.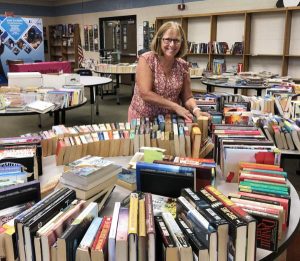 Saturday, September 30, 2023
at 9:00 AM to 3:00 PM:
This day of the event is FREE and OPEN TO THE PUBLIC. There will be 1,000's of books for sale – CHEAP! The Blood Connection will have a blood drive in their mobile unit on Saturday, too.
If you would like to help with this year's event, please contact Polly Purtorti ([email protected]) or Dodi Hodges ([email protected]).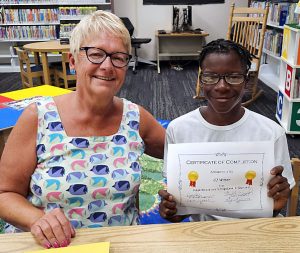 CJ Wilson holds his Certification of Completion. His tutor is Mary Ellen Wyszynski.
There is still time to become a pen warrior!

Local students have a chance to show off their writing skills – and their imaginations – at the first-ever Best Book Bazaar Pen Warriors Writing Contest. Everyone has a story bursting from their fingertips, and every student has depths of creativity within. We want to read what you write!
The writing contest, for students in kindergarten through eighth grade, is hosted by the Palmetto Literacy Council to help foster a love of books, the written word, and illustrations. The Palmetto Literacy Council is working in conjunction with the Coastal Carolina University English Department and members of its honor society, Sigma Tau Delta.
Kindergarten through second grade
Third through fifth grade
Sixth through eighth grade
There are three categories of contestants:
Deadline for submissions is Sept. 12.

The top three winners will be invited, with their parents, to the Best Book Bazaar on Sept. 29 from 6-9 p.m. at the Horry County Education Building, 3301 N. Oak Street. The entire family is welcome to attend dressed as your favorite warrior! Light refreshments and snacks are provided.

Students are judged on cohesion and narrative arc, elements of visual and graphic design, idea development, creativity, and style.
For detailed criteria per age category, contact Dr. Dodi Hodges, Palmetto Literacy Council executive director, at (843) 945-9278 or email [email protected].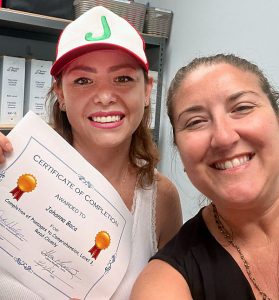 Johanna Bacca (in the cap) completed a section of her binder. Alesa Morales is her Tutor.
Dr. Catheryn Weitman Resigns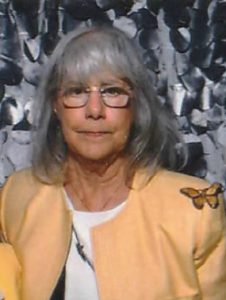 Dr. Catheryn Weitman, chairman of the Palmetto Literacy Council Board of Directors, resigned effective Aug. 11, 2023.
Dr. Preston McKever-Floyd, as the board's vice-chair, is currently serving as interim chairman. A new Board of Directors chairman will be announced in September.
Dr. Weitman's contributions to this organization cannot be overstated. Her expertise, knowledge, and professionalism helped raise the Palmetto Literacy Council to a higher level. Her love of and dedication to literacy was at the forefront of all she did here. She will be sorely missed.
Volunteer Orientation and Training – Tuesday 9/19/23 at 5:30pm
BoD meeting – Thursday 9/14/23 at 5:30pm
Tutor Talk – Friday 9/22/23 at 10am
Volunteer Liaisons Meeting – Friday 10/6/2023
BBB Fundraising Committee Meeting – regularly, contact [email protected]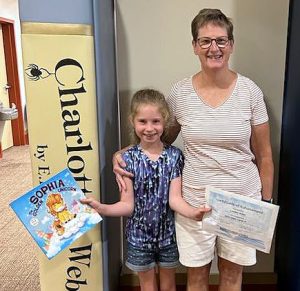 This is London Selwa who completed a binder! Kathy Coulom is her tutor. Great reading London!!
We went to the Back to School Bash on Hwy 15 on Friday August 18. Twenty-nine children were signed up to possibly get tutored. We had 4 people sign up to be possible tutors. Still looking for an educator willing to be the Volunteer Liaison in Socastee.
Need tutors for students on the Waitlist (not including the 29 mentioned):
Adult Learning Program at Patricks Mobile Home Park – 1
Carolina Forest Library – 2
Conway Library – 9
Socastee Library – 2