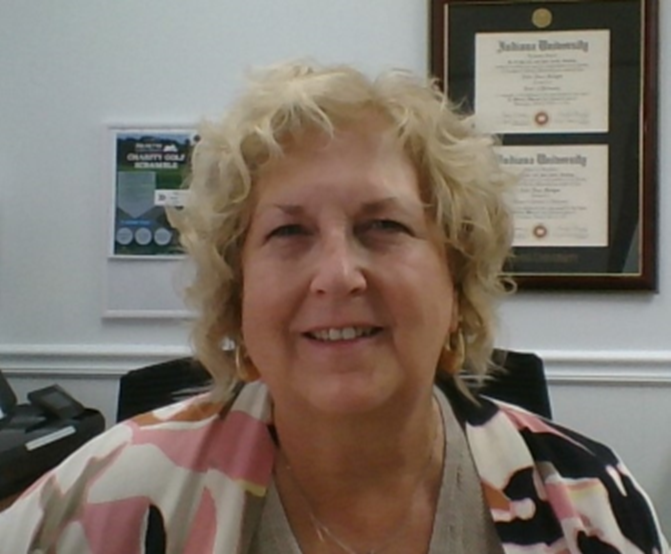 HAPPY 4TH ANNIVERSARY TO PALMETTO LITERACY COUNCIL!
We opened our doors officially on August 1, 2019, next door to our current office. Our office was a 14×16 room with two very large desks, a bookcase, and a lot of dreams! We painted the walls from dingy gold to pale blue (sound familiar) to help calm my fanny down. I was a nervous wreck. Anne Reiter called to ask if she could tutor with us and bring the young man she was working with to learn to read. They were our first pairing.
Jeanne Bogart was our administrative assistant who was there on the first day we opened. She reported that she brought with her several books to read because she thought we wouldn't have anything to do. Oops! She was never given the opportunity to read, we were busy from the day we opened up. Until seven months later when we were shut down by COVID. Shortly after that, we had to let Jeanne go, there were no funds to pay her. 
In stepped our volunteers! Cheryl Burns came to the office and asked if she could develop the Laces database. She was dubbed our Laces Czar at that moment. No one was to touch the database unless she trained them. Patricia D'Ascoli wanted to take on the newsletter and was later also on our Board of Directors. What a great way to move forward. 
Our focus, at the time, was to get a binder put together just in time for me to meet with a tutor and a student to get them started with tutoring. Materials were limited and so were the funds. We made it through 2020 with a lot of hard work and dedicated volunteers.  
Here we are today growing and learning – all of us-together!
2nd Annual Best Book Bazaar September 29 and September 30, 2023
Let's celebrate National Literacy Month together. Our Best Book Bazaar is coming back! Over 6,000 books offered for sale – CHEAP! Local authors will be set up to offer their books for sale and autograph.

Location: Horry County Schools Adult Education Center, 3301 Oak St., Myrtle Beach. Here's a Google Map.

Friday, September 29, 2023
at 6:00 to 9:00 PM: Family Fun Night! Tickets are available for purchase to attend this event where you will get first crack at the books for sale. Minor children with an adult will be free. We are having a Young Author's Contest called "PEN WARRIORS." Students are encouraged to write a book and submit it for possibly winning a prize for one of the top 3 books entered by categories: Kindergarten – Grade 2, Grades 3-5, and Grades 6-8. The Coastal Carolina University English Honor Society will be judging the entries. Watch this space for more information, then check out our website.
Saturday, September 30, 2023
at 9:00 AM to 3:00 PM:
This day of the event is FREE and OPEN TO THE PUBLIC. There will be 1,000's of books for sale – CHEAP! The Blood Connection will have a blood drive in their mobile unit on Saturday, too.

If you would like to help with this year's event, please contact Polly Purtorti ([email protected]) or Dodi Hodges ([email protected]).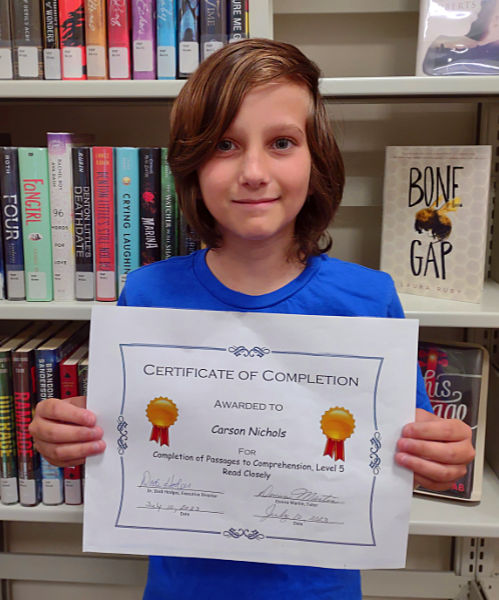 Carson Nichols completed the Read Closely section of his binder. His Tutor is Donna Martin. 
Haines Campbell
completed a section in his
binder. Sally Stasiek is his tutor.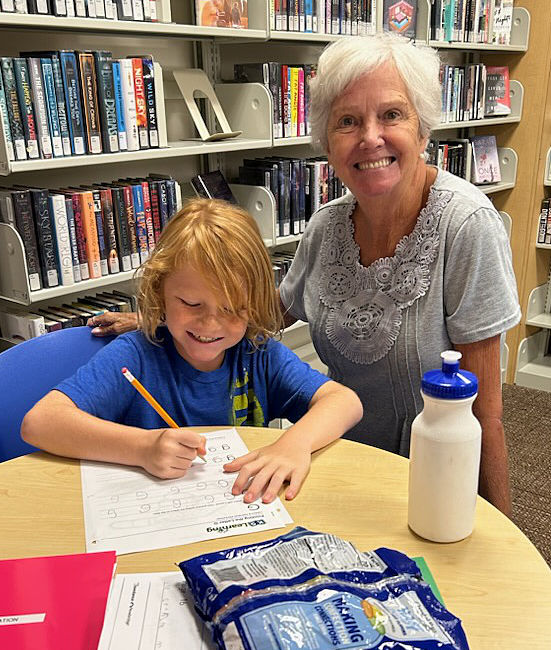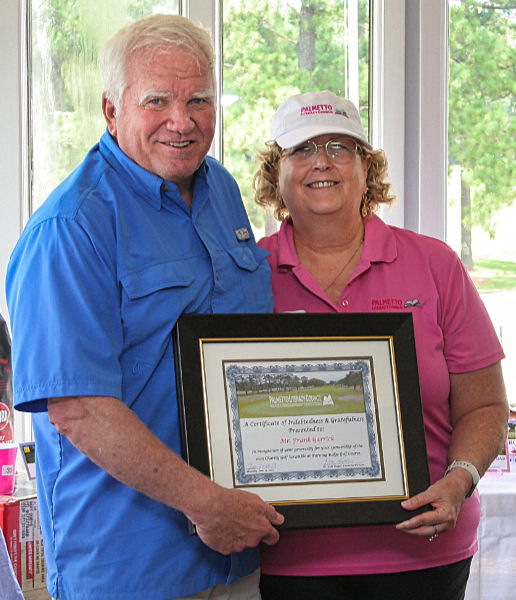 Results of the 3rd Annual Golf Scramble
We want to thank Frank Garrick for sponsoring this event.

On Saturday, June 24 at Burning Ridge Golf Club, golfers enjoyed breakfast, lunch, raffles, longest drive, closest to the pin and much more! Take a look at the photos below to see some of the fun. To see ALL of the photos from the tournament, visit the online photo album. Click Here!
Congratulations to the First Place team (at right)
You will be happy to know that this tournament raised $6,400 for the Palmetto Literacy Council!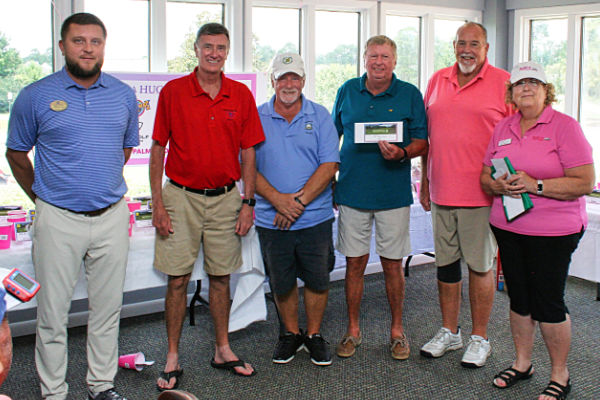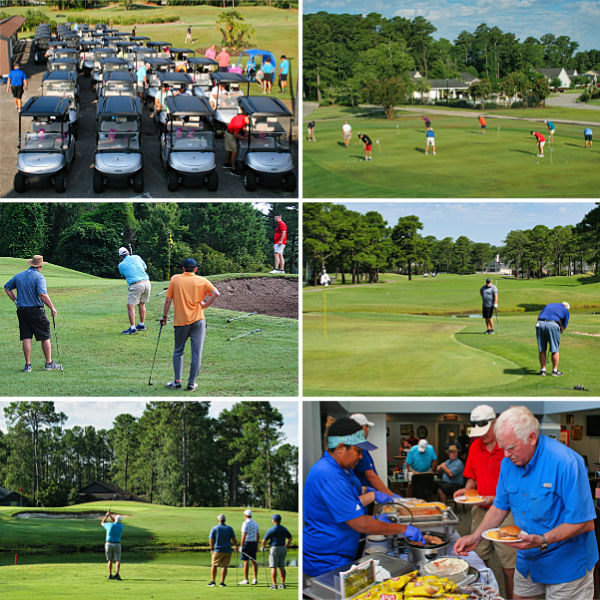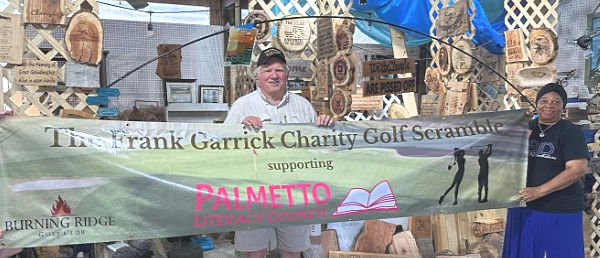 Frank Garrick, the tournament sponsor, receives his banner and hole sponsorship sign at his booth at Hudson's Flea Market. He will hang the banner at his wood carving booth. Visit him at 1040 US-17 BUS, Surfside Beach. The end of the banner is held by Jeanette Jones.
We now have Mammoth Math Grades 4, 5, and 6. We have a new Writing Central program for Level 3, which will help those who struggle with writing, learning the Writing Process and use it. Kangaroo Cravings, a board game to learn sight words, has also arrived. We have Fry Word Flashcards that are numbered to match the Fry Words Checklist. These are tough to put together, thanks to Joanne Cherry, Vernell Singleton, and Kyle, we have a couple of starter sets we have already given to tutors.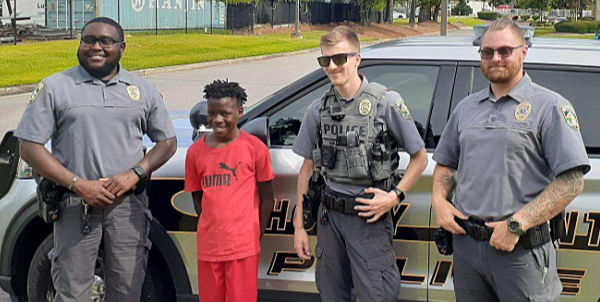 CJ Wilson, a student at the Little River Library talks to police about the importance of learning to read. Thanks to our tutor, Mary Ellen Wyszynski for encouraging this exchange and sharing with us!
This is London Selwa
who completed a binder!
Kathy Coulom is her tutor.
Great reading London!!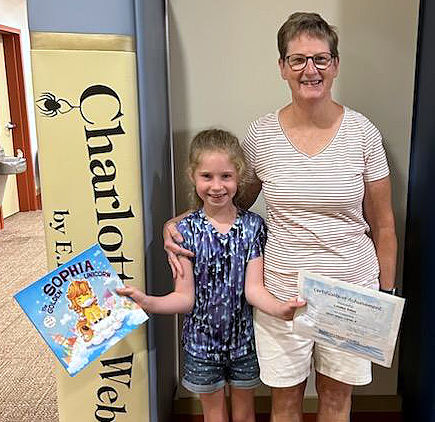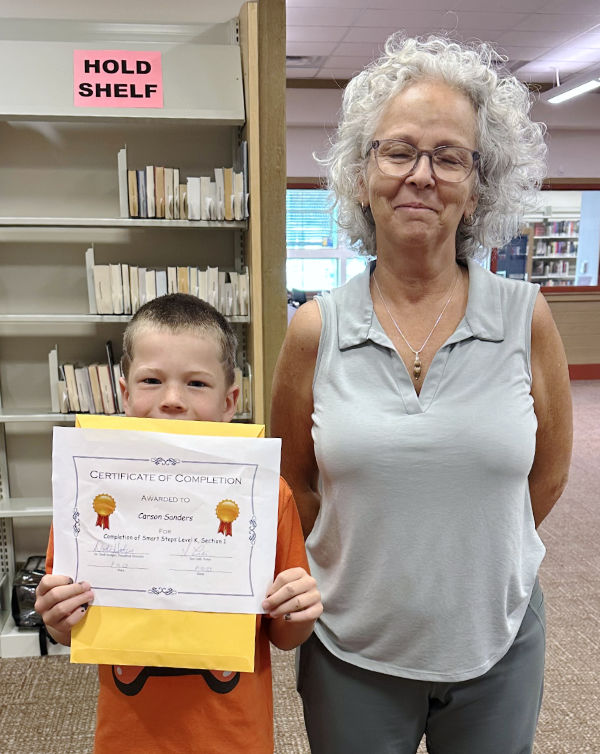 Carson Sanders completed a section in his binder! His tutor is Sue Lodi. 
Yes, we are need of volunteers to tutor and volunteers to become the Volunteer Liaisons for Socastee Library and North Myrtle Beach/Little River Libraries.

Volunteer Orientation and Training
Please spread the word, our next Volunteer Orientation and Training is scheduled for Wednesday, August 16, 2:00 pm at the office. 

Tutor Talk
Friday, August 18, 2023, 10 AM – 11:30 AM
in the conference room at the office, 1010 5th Ave N, #102, Surfside Beach.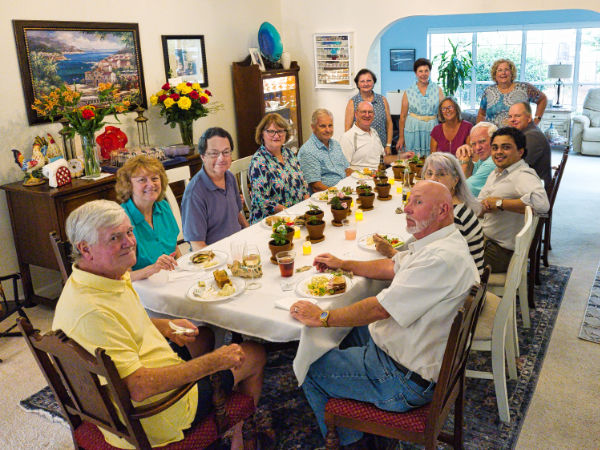 On July 15, 2023, Dodi and Mike Hodges invited the volunteers from the Frank Garrick Charity Golf Tournament to their house for a light dinner and refreshments. We enjoyed lots of conversation and socializing. Thanks, Volunteers, and thanks, Mike and Dodi!